The Military History Society of New South Wales Incorporated presents
MYTHS OF THE SOMME
A case of failures in leadership and technology?
By Major John Hitchen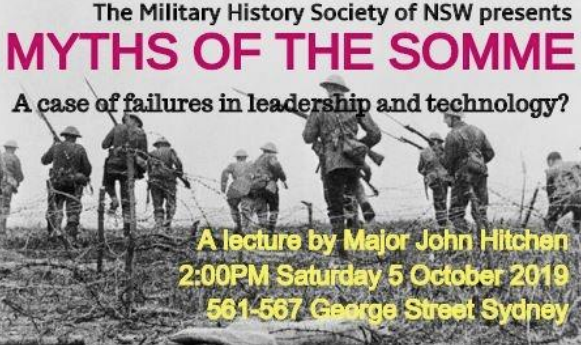 The Somme campaign between July and November 1916 is widely regarded as one of the greatest tragedies in British and Imperial military history, costing a total of 420,000 casualties, around 57,470 of those on the first day alone.
The causes of the disaster have been examined and re-examined ever since, but a few myths persist in the popular imagination.
Having studied the offensive closely, Major John Hitchen (Australian Army Reserve) will challenge some of the common misconceptions.
Amongst other things, he will discuss governance of the British Empire's defences, omissions of political and military leaders, foibles of some officers at General Headquarters (GHQ), lost opportunities to monopolise the acquisition of Maxim machine guns, techniques to clear barbed wire obstacles, recruitment and training of personnel in the use of artillery, and British training in general, particularly of officers.
Saturday 5 October 2019, 2.00pm – 3.00pm
Goulburn Room, Level 4, City of Sydney RSL, 561-567 George Street, Sydney
For further information call 0419 698 783 or email president@militaryhistorynsw.com.au
Although entry is free, a gold coin donation is appreciated.
Biography –Major John Hitchen
John Gware Hitchen was born in Sydney and attended the University of New South Wales where he gained a BSc in Pure and Applied Chemistry.
He worked for the Sydney Water Corporation for over 32 years where he provided technical advice and for over seven years as a chemist for CSR Limited.
John served in the Army Reserve for over 37 years rising to the rank of Major. His initial training was with the University of New South Wales Regiment. He was awarded the 'Tolnay Trophy' for scoring the highest marks in the examination for appointment to commissioned rank in 1973.
He commanded companies at Vaucluse, Merrylands, Sutherland and Arncliffe. He was the Second in Command of 4th/3rd Battalion the Royal New South Wales Regiment and Second in Command of the Officer Cadet Training Unit. He commanded the Audit Team of 2nd Training Group at Ingleburn and later at Moorebank.
He is on the executive of the University of New South Wales Regiment Association and was honorary Treasurer of the Royal New South Wales Regiment.
He is a member of:
 Military History Society of NSW
Naval Historical Society of Australia Inc
Western Front Association (NSW Branch)
The Gallipoli Association
As a member of the Royal United Services Institute of NSW, he has presented at the Institute of Defence and Security Studies Inc NSW (RUSI) military history semniars
Gallipoli August 1915 Offensive
Australian participation in Somme battles 1916
As a member of the Royal United Services Institute of NSW, he has prepared a number of book reviews of military history books. These reviews have been published in the RUSI Journal.
His battle field touring includes:
 75th Anzac Day at Gallipoli
 100th Anniversary Anzac Day on the Gallipoli Peninsula
 Centenary of the capture of German New Guinea at the Battle for Bita Paka
 2nd Division's 90th Anniversary tour to both Gallipoli and the Western Front
Western Desert Libya and Egypt
Greece-Crete
75th Anniversary Fall of Singapore
Centenary of Beersheba
Western Front